Thursday, 24 December 2015 10:50
Christmas in the USA
Written by Scott Dreyer
Christmas, by far the biggest holiday in the American calendar, falls on December 25 of every year. Still, this holiday is so important in so many ways, it tends to occupy one month or so.
The Holiday Season
To learn about Christmas, we need to first discuss what most Americans call "the holiday season." True, we have holidays at different times of the year--Easter, Memorial Day, July 4, etc. But in the US, what we call "the holiday season" starts in about late November, with Thanksgiving, and lasts about five to six weeks until January 1. (Nowadays, you could almost say the "holiday season" starts around Halloween, October 31. This is because Halloween is now the second-biggest US holiday as measured by consumer spending, plus one often sees Christmas decorations and items for sale in stores by Halloween.) This is a period of time marked by many parties, dinners, decorations, gift-giving, etc. In fact, thanks to all the parties, dinners, and gifts of things you can eat, many Americans complain of gaining weight over the holidays. So, early January is a time when many people join gyms, in an attempt to lose the extra pounds and get back in shape. Sadly, many of those people give up around February.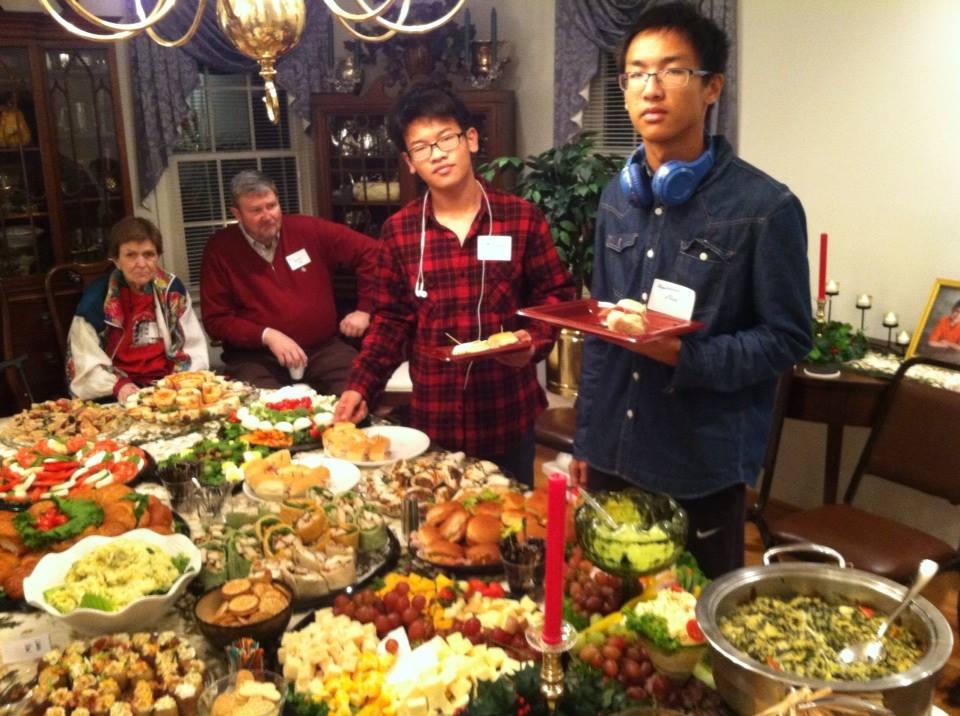 Our students at a Christmas Party at friends' home
This blog post is designed to give you a sense of some important traditions and elements of the Christmas holidays in the USA.
Christmas Tree & Ornaments
Many Americans buy a Christmas tree and place it in their home. Many offices, hospitals, etc. also have Christmas trees. Some people prefer artificial, or man-made trees. These have several advantages. First, cost. You can buy one tree, even a used one, and use it year after year. It is also easier. It is simple to put together, its needles do not drop, and you do not need to add water. It is also safer. They are made of a material that cannot burn. Still, many other people prefer the real trees, for these have some advantages too. It is fun to go out after Thanksgiving and pick your tree. Some people even drive to a tree farm and cut their own tree. When I was young, my dad owned a farm and we would cut a tree from there, for free. Plus, many people prefer the look and smell of a live tree in their home. If you have a live tree, you need to add water to the container at the base every day or so, because the tree still continues to suck up water, even after it has been cut.
After you put up the tree, you can decorate it. This is a favorite Christmas tradition for many families. Some families have decorations they have passed down for several generations. Others like to have decorations that their children made, or they have photographs of their children on the decoration. Those are especially fun to look at after the passage of many years. Just this year I was looking through a small box of some "odds and ends" that my grandmother left us. In it I found two old, small clips with candle holders attached, and at once I knew what they were. They were used to clip to the Christmas tree to hold the candles that her family used to use for decorations, before they got electric lights. We also have a small "nativity set" decoration that our daughter made, because it says "Sarah 12-01" on the back. People have boxes that they use just to hold their Christmas ornaments and items; after the holidays, they box up the items and put them away until next December.
Many people decorate the outside of their homes too, with lights, trees, wreaths, greenery, and other colorful items. The main colors of Christmas are green and red.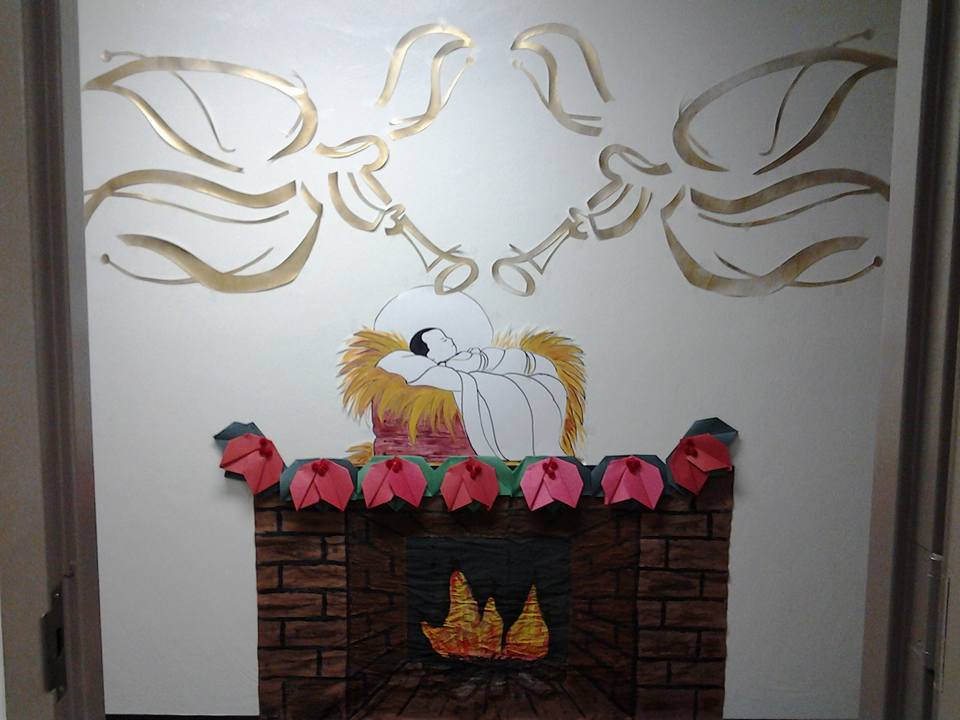 Christmas artwork made by Deborah Dreyer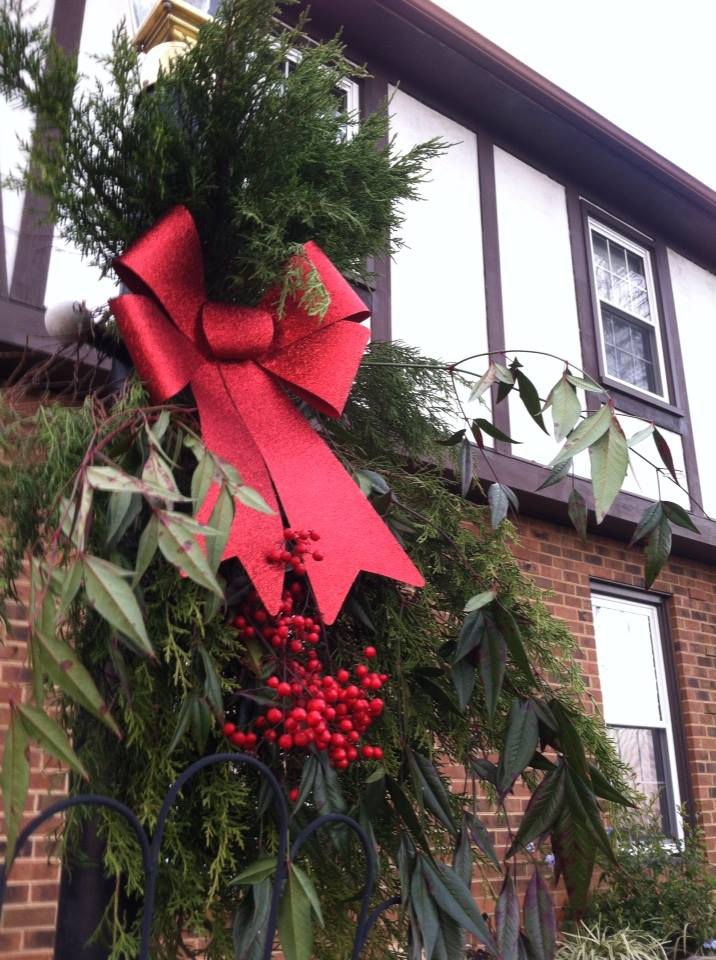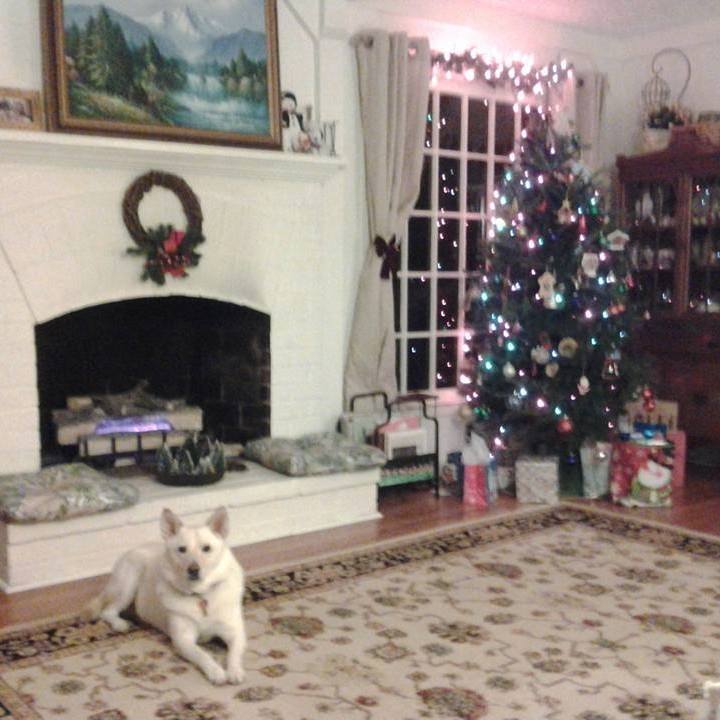 American home at Christmas--decorations outside and inside
Christmas Music
The longer I live, the more I realize one of my favorite parts of the Christmas holidays is the music, called carols. There is a whole body of music that is dedicated to the Christmas season. Many radio stations start playing it around Thanksgiving, and they play it 24/7 until December 25. Then, when you wake up on December 26 and turn on the radio, it's all gone. The music basically falls into two categories: religious and secular. Some of the religious songs are hundreds of years old, and these all focus on the origin of Christmas, and the celebration of the birth of Jesus.
One particularly famous religious carol is O Holy Night, about the night when Jesus was born. Probably the most famous Christmas carol is Silent Night. One popular carol about a legendary little boy who came to play his drum for the Baby Jesus is Little Drummer Boy.
Good King Wenceslas is about a beloved king in Czech history, known for his love and generosity for his people.
Outstanding among Christmas music is the 1741 masterpiece Handel's Messiah. Handel took various verses in the Bible about Jesus and put them to music; the most famous song from Messiah is "The Hallelujah Chorus." To hear the Messiah sung live at the Christmas season is a special treat to enjoy and remember!
One well-loved secular carol is Sleigh Ride (listen for the horses' hooves, neighing, jingle bells, and cracking whip.) (To learn the difference between "sleigh" and "sled, read my blog here. These have the same word in Chinese.) Another popular one is White Christmas, here recorded by Bing Crosby in 1942, during World War II, and Holly Jolly Christmas.
Christmas Movies
With lots of time off from work and school, many people spend time over the holiday watching movies, and there are many Christmas movies and TV shows. One of the most beloved is the 1947 gem It's a Wonderful Life. The main character, George Bailey, has always lived to help other people, but suddenly his bank loses US$8,000 and he will have to go to jail. He gets depressed and wants to take his life, and thinks "Everyone would be happier if I had never been born." This clip shows him how sad and angry he is. To show him what "a wonderful life" he has had, and how many people he has helped, God sends an angel, Clarence, to help him and let him see how worse the world would be without him. This clip starts where George asks "let me live again," and he sees how wonderful his life has actually been. The 1965 classic Charlie Brown Christmas TV show turned 50 in 2015, and has become a US Christmas icon. Charlie Brown is trying to figure out "what Christmas is all about," and his friend Linus tells him. Rudolph the Red-Nosed Reindeer is another beloved story.
Black Friday & Shopping
Since Thanksgiving is a four-day weekend for many Americans, the day after Thanksgiving has become a major shopping day and a kick-off to the Christmas shopping season. Called "Black Friday," that day has many sales and people lined up to get the bargains. Unfortunately, many stores have now moved their sales forward, onto Thanksgiving Day and evening, so many people now have less time with their families on that holiday. Christmas is such "big business" in the US, that many stores actually LOSE money most of the year, and make most of their profit in the month leading up to Christmas. The tradition of giving gifts at Christmas comes from the Wise Men giving gifts to the Baby Jesus, as recorded in the Book of Matthew in the Bible.
Christmas Cards
Many people send Christmas cards to friends and relatives, but with Facebook and social media, this tradition seems to be decreasing. Still, many people use Christmas cards as a way to contact people they may not otherwise connect with over the rest of the year.
Christmas Foods & Drinks
Since eating is a major part of Christmas, there are some special foods and beverages associated with the holiday. A popular drink that you can only find this time of year is eggnog, a mixture of eggs, milk, and sugar. Lots of people like to bake Christmas cookies, and a popular activity is a "cookie exchange." In this, each person makes just one or two kinds of cookies, in a large amount, then they meet with some friends and everyone shares theirs. That way, rather than having lots of one kind, you can get a small sample of a large variety of cookies. If possible, many families like to get together for Christmas, and the main dishes tend to be either turkey or ham. Fruitcake is a traditional Christmas dessert.
Christmas Eve Church Service
Many families go to church on Christmas Eve; most such services are around 6:00 or 7:00 pm, but some are as late as 11:00 pm. These services usually include many Christmas carols and readings from the Luke Chapter 2 in the Bible about the birth of Jesus. These church services usually include everyone holding a candle. Singing Silent Night by candlelight on a Christmas Eve, in a large room lit by candles, is a beautiful experience.
Hear David Dreyer playing "Go Tell it on the Mountain" at a recent candlelight Christmas church service.
Christmas Morning
Most families have their "gift exchange" on Christmas morning. Usually the young children wake up first and dash to the Christmas tree, to see what they got for presents Parents love to take pictures of their young children opening the gifts. Some families read the Bible story about Jesus' birth at this time. (Read the Christmas story from the Bible, Luke Chapter 2, in English, Simplified Chinese, and Traditional Chinese.) Sometime on Christmas morning, many families have a large, hot breakfast. This is a casserole my mom often made for Christmas morning, and some years I make it for my family too on that special day. Here's the recipe. All schools and most businesses are closed, so Christmas Day is traditionally a day to spend with family and reflect on the birth of Jesus and the year's end.
Do you want to know more about Christmas greenery and see many other links about Christmas? Check out this great site, WhyChristmas.com to see more!
This link tells you the history behind 10 favorite Christmas tradtions in the USA.
Thank you for reading. Merry Christmas!
**********************************
Do you want more help with your English? Do you want to know more about American holidays and life in the USA? We teach this online during the year, so our lessons come straight from the USA to your home or office. Contact us today about how we can help you!

A licensed teacher in the US state of Virginia since 1987, Scott Dreyer has been helping Chinese speakers improve their English since 1989. Dreyer lived in Taiwan from 1989-1999 where he learned Mandarin, met his wife, started his family, and realized he loved working with Chinese students. He became an award-winning author and started teaching ESL online in 2008. Dreyer and his wife and their four adult children make their home in the beautiful Roanoke Valley in the Blue Ridge Mountains of Virginia.
dreyercoaching.com/en/about/scott-dreyer
Latest from Scott Dreyer
Leave a comment
Make sure you enter all the required information, indicated by an asterisk (*). HTML code is not allowed.