Monday, 12 September 2016 13:50
The beautiful Roanoke Valley of Virginia--Welcome!
Written by Scott Dreyer
There is an old joke about real estate and realtors. There are three things that determine the value of a house or property:
1. location
2. location
3. location
This holds true for the beautiful Roanoke Valley of Virginia, too. Its location--and the people who live here--make the place so special. Let's look at some important facts about its location and uniqueness.
The US State of Virginia itself is a wonderful state, in my opinion. Thanks to its location on the East Coast of the USA, it has beaches and the Atlantic Ocean on its east side, and mountains on its west side. Also, the first permanent English colony in the New World was Jamestown, Virginia. When you realize Virginia was the birthplace of famous Americans like George Washington, Thomas Jefferson, Patrick Henry and so many others, you will see that this state is the birthplace of English-speaking America and American liberty! (To learn more about Thomas Jefferson's famous Virginia home, Monticello, click here.)
In Virginia, the Southwest corner is a particularly beautiful region. This area is covered by the historic and beautiful Appalachian and Blue Ridge Mountains, valleys, and small towns.
Roanoke is the largest city in Southwest Virginia. In fact, the Roanoke Valley is a basin surrounded by the Blue Ridge Mountains on all sides. This is a remarkable feature of Roanoke. From almost anywhere, if you look in almost any direction, you can see mountains.
The Roanoke Valley has a river that runs right through it. It's called--surprise!--the Roanoke River. The river starts just west of the Roanoke Valley and runs basically south and east. A few miles downstream from the Roanoke Valley, the river is dammed (blocked) and forms Smith Mountain Lake, the largest lake inside Virginia. You can drive to this lake in forty-five minutes or so from the city and it is a popular tourist attraction in this area. Many people like to fish, water-ski, swim, and just relax at that lake.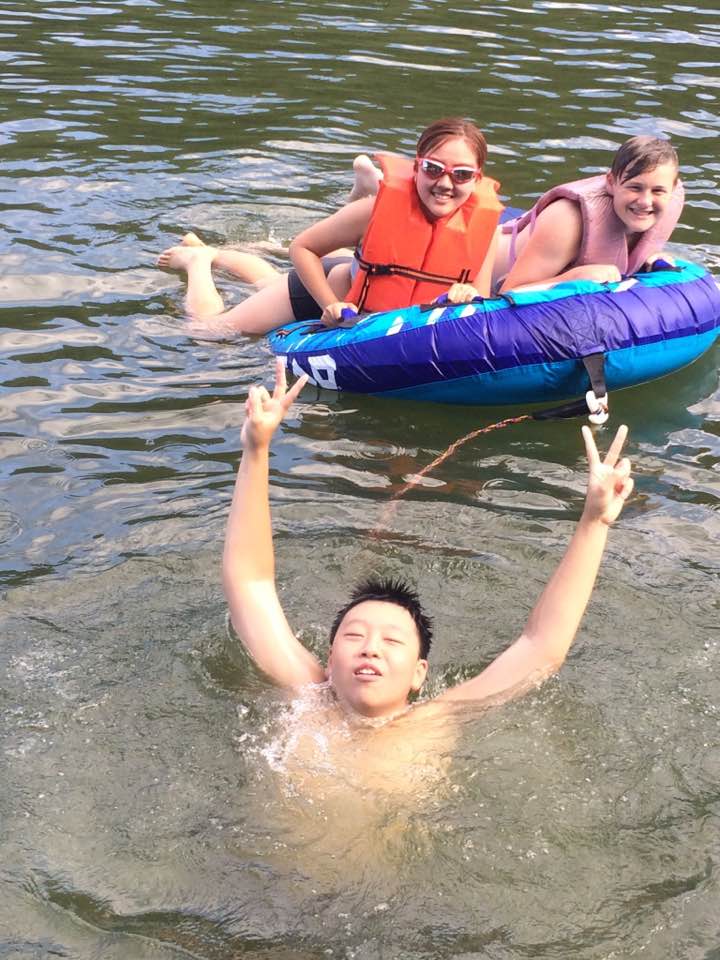 (Dreyer Coaching summer lake party)
Another benefit of living in the Roanoke area is our clear four seasons. Summer is not too hot--highs are usually in the upper 80's or lower 90's F (30-34 C), but it's hot enough to make swimming pleasant and fun. Virginia is in the American South, yes, but it's in the so-called Upper South, not the Deep South, so summers here are not as hot as they are in places like Florida, Alabama, and Texas. Many people think fall (autumn) is the best season in Roanoke, with its cool days, blue skies, stunning sunrises and sunsets, and breathtaking fall colors on the trees and mountains. Because Virginia is a southern state, winters are generally mild. We are far enough north to usually get a few snows each winter, but we are far enough south so that the snows generally melt after a day or two. Long periods of bitter cold are rare. Another favorite season here is spring. From March to May, a multitude of blooming bushes, trees, and flowers make parts of Virginia look like a huge park.
In any place, it's the people who make it special, and that's true of the Roanoke Valley. A large number of residents of Southwest Virginia today come from Scots-Irish and/or Germans descent. This is from an historical reason. During the 1700's, an important road, the Great Wagon Road, ran from Pennsylvania down south to North and South Carolina. Many Scots-Irish and Germans left Pennsylvania looking for free land in the south and west, so they traveled south on that road and ended up settling in Southwest Virginia. Interestingly, Interstate 81 basically parallels the route of the Great Wagon Road. These people are known for their independent, hard working, friendly, and frugal nature.
There are many things to see and do here, whether you visit Roanoke for a short time, for a winter or summer camp, or to live and study: Mill Mountain, The Blue Ridge Parkway, hiking, Downtown City Market, Hotel Roanoke.
Check out this website to learn more about this beautiful area!
DreyerCoaching.com offers winter camps, summer camps, short-term vacations, and high school and college study programs here. Contact Scott today to find out more!

A licensed teacher in the US state of Virginia since 1987, Scott Dreyer has been helping Chinese speakers improve their English since 1989. Dreyer lived in Taiwan from 1989-1999 where he learned Mandarin, met his wife, started his family, and realized he loved working with Chinese students. He became an award-winning author and started teaching ESL online in 2008. Dreyer and his wife and their four adult children make their home in the beautiful Roanoke Valley in the Blue Ridge Mountains of Virginia.
dreyercoaching.com/en/about/scott-dreyer
Latest from Scott Dreyer
Leave a comment
Make sure you enter all the required information, indicated by an asterisk (*). HTML code is not allowed.