Wednesday, 04 July 2018 01:25
July 4th
Written by Scott Dreyer
The 4th of July!
It's America's birthday!
The United States of America counts its birth from July 4, 1776.
Why is that a special day?
From the many years from 1607, when the English created their first permanent colony in the New World at Jamestown, Virginia, until 1776, England controlled most of the eastern part of North America. Called the 13 colonies, these colonies, from Georgia in the South to New Hampshire in the North, took their orders from London. The first settlers who came from England to live in America brought their culture, Christian religion, and of course language, with them. That's why the USA is an English-speaking country today, and it explains why you are reading this blog in English right now! (See how history influences the present?) Anyway, those early settlers thought of themselves as Englishmen living in America...but still Englishmen! At that time, the decision to move from Europe to America was nearly irreversible. Once you got on the ship, you knew you would probably never go back to Europe again. So, eventually those first English settlers married, had children, and died in America. Their children almost never traveled to Europe, but because they had heard their parents talk about English often, they too thought of themselves as Englishmen...living in America. But over the years and decades, something happened. It was gradual, not sudden, but with each passing generation, the mindset slowly changed. More and more, many of the people of European descent in America no longer thought of themselves as English, or Germans, French, or Dutch, etc....but rather as something new: Americans.
So, with the passing of the years, England and the Americans slowly drifted apart. Yes, both spoke English and ships regularly traveled back and forth acros the ocean, but since America was so far from England, and it took months for ships to travel that far, and since Americans had to solve their own urgent problems like Indian attacks, building roads, and running schools, etc., the Americans slowly began to take more responsibility for their own lives and did not look to England for as much protection and guidance.
So, by the 1760s and 1770s, when the English King George III kept putting more controls and taxes on the American colonists, there was more and more American anger!
At first the anger was in the forms of protests, letter-writing, etc., but eventually it became violent, like in the Boston massacre and finally open fighting took place at Lexington and Concord, Massachusetts, on April 19, 1775. That was called "The shot heard round the world." See the video! War had begun between American citizens and English soldiers.
But even though war had begun, the 13 colonies still belonged to England! For that reason, delegates from the 13 colonies met in what is now called Independence Hall in Philadelphia, Pennsylvania, to discuss possible independence. The debates went back and forth for weeks. Finally, the delegates agreet to have a team of five members write a Declaration of Independence, claiming that the United States of America is an independent country, and explaining why we had the right to break away from England. The main author of the Declaration of Independence was Thomas Jefferson of Virginia. You can read the Declaration of Independence here. You may notice that the Declaration of Independence has many references to God.
In fact, the delegates voted for independence on July 2, but since they did not vote to accept the Declaration of Independence until July 4th, that day is now considered the USA national day. This is ironic. The actual vote for independence was on July 2, and Founding Father John Adams thought THAT would become the actual independence day. This is how he described July 2nd in a letter to his wife, Abigail: July 2 "will be celebrated, by succeeding Generations, as the great anniversary Festival" and that the celebration should include "Pomp and Parade…Games, Sports, Guns, Bells, Bonfires and Illuminations from one End of this Continent to the other."
However, since the delegates voted to approve the Declaration of Indepenence on July 4th, that has since become Americans' national day. Read more about it from History.com.
Another interesting and ironic story: Founding Fathers John Adams (the second president) and Thomas Jefferson (the third president) worked together in the summer of 1776 to write and approve the Declaration of Independence. However, after the US won its independence and both men became political leaders in the new country, they developed a bitter rivalry. Many years later as old men, however, they buried the hatchet and became friends again. As old men, they wrote friendly letters to each other. Ironically, not only did they die on the same day, it was July 4th, 1826, the 50th anniversary of the birth of the United States of America. Read more about this odd coincidence here.
This video explains why we have fireworks on July 4th!
Even though the delegates voted for Independence, King George III of England did not care. He ordered armies and fleets to America, to crush the rebellion. This led to about five more years of warfare, called the American Revolution or the War of Independence. The main American general of that war was George Washington, of Virginia, and the final main battle was Yorktown, Virginia, in 1781. Do you see the Role of Virginia in USA history?! So when you study with DreyerCoaching.com, based in the US state of Virginia, not only do you learn more about English, but you learn more about American culture, history, and thinking too!
How do Americans celebrate the 4th of July today?
July 4 is a national holiday. This means there is no mail, and all banks, schools and government offices are closed. Many private businesses are closed too. Since many people have the day off from work, they are able to spend the time with their family and friends. Here are some of the many things Americans do to celebrate that day.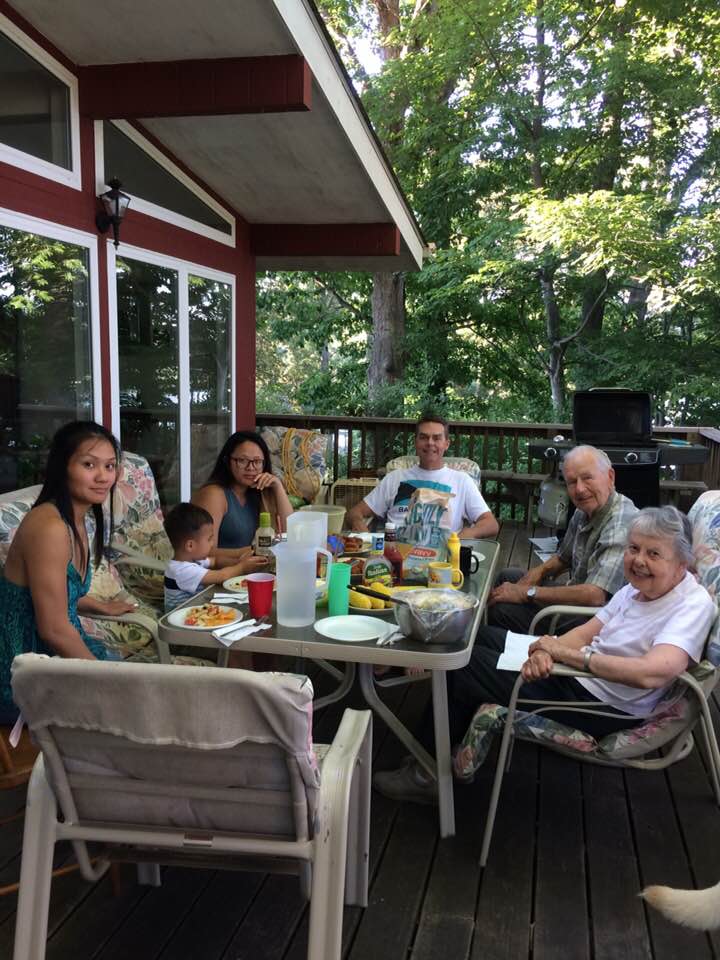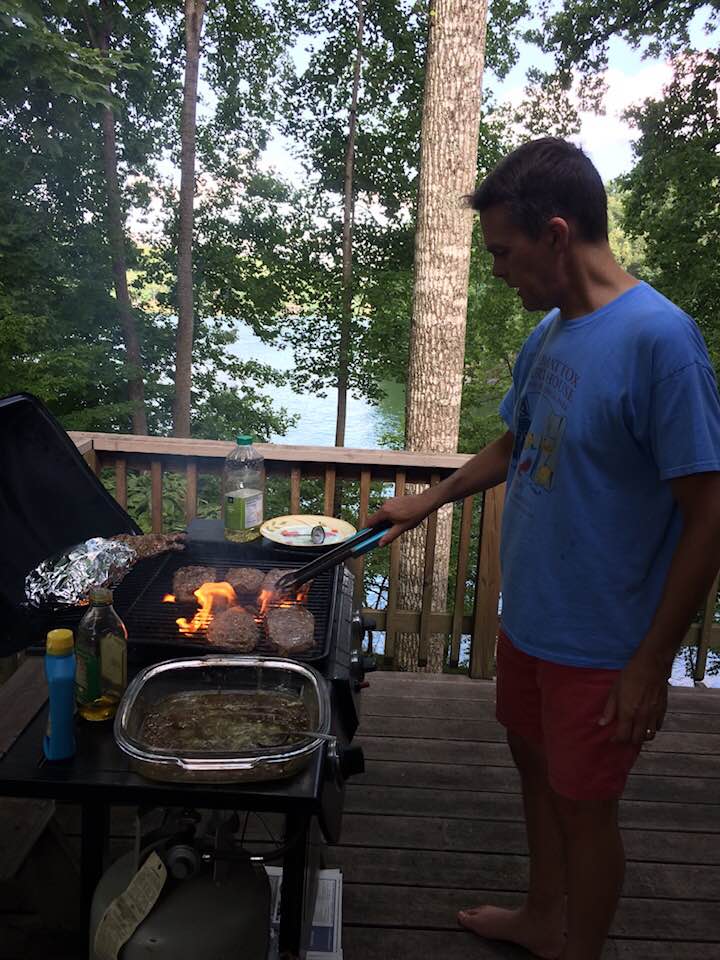 wear red, white and blue clothing or hats
be thankful for our freedoms. In English we have a saying, "Freedom is not free." The USA is independent, and has remained so for over 200 years, because of the brave soldiers who first won and later defended those liberties. Sometimes it's easy to focus on the food and fun but forget the meaning, and this cartoon reminds us that LIBERTY is the meaning of the day.
watch fireworks at night. It's usually hot during the day on July 4th in much of the USA, so it feels great to go out at night, after it gets dark and cool, spread out a blanket on the ground with your family and friends, and look up at the sky and watch the great fireworks. Cities, towns, businesses, and churches across the USA sponsor firework shows at night. See the fireworks below in Roanoke, Virginia, where DreyerCoaching.com is headquartered.
Here is a video from the July 4th fireworks and music in Washington, DC.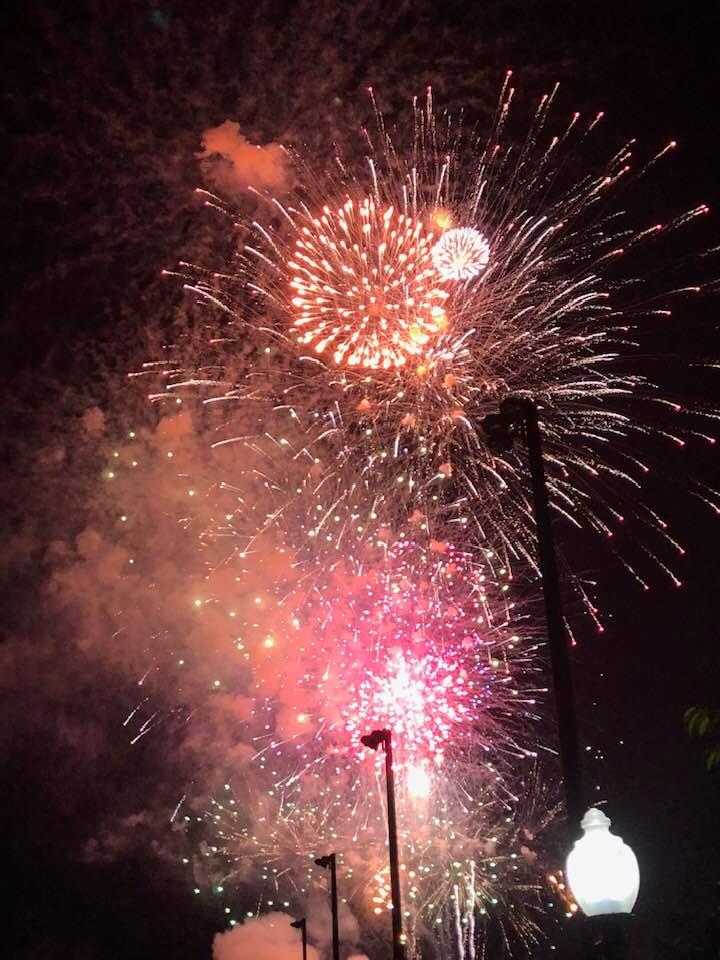 **********
Learn more about July 4th:
ELCivics.com (intermediate level)
ESLfast.com (intermediate level--reading, listening, and comprehension exercises)
Voice of America (advanced level)
This day in history (advanced level)
*********
Thanks for reading! I hope this gives you a better understanding of how most Americans celebrate our national day, July 4. Do you want to improve your English or understanding of life in the USA? Contact me today to find out how to join an online English class, right to your home or office, anywhere in the world! Find out how our classes run by reading this.

A licensed teacher in the US state of Virginia since 1987, Scott Dreyer has been helping Chinese speakers improve their English since 1989. Dreyer lived in Taiwan from 1989-1999 where he learned Mandarin, met his wife, started his family, and realized he loved working with Chinese students. He became an award-winning author and started teaching ESL online in 2008. Dreyer and his wife and their four adult children make their home in the beautiful Roanoke Valley in the Blue Ridge Mountains of Virginia.
dreyercoaching.com/en/about/scott-dreyer
Latest from Scott Dreyer
Leave a comment
Make sure you enter all the required information, indicated by an asterisk (*). HTML code is not allowed.