Wednesday, 07 February 2018 19:34
Groundhog Day
Written by Scott Dreyer
Groundhog Day is on February 2 and it is a minor holiday. The main idea of the holiday is, if February 2 is a sunny day and a groundhog sees his shadow, then there will be six more weeks of winter. However, if he does NOT see his shadow that day, then it means spring will come early this year. Of course this is not science; it is folklore. Still, it makes a fun story and each year news shows report on what the groundhog sees.
Groundhogs are a very common wild animal in the USA. They can grow to be the size of a big cat or a small dog. You often see them by the side of the road or in people's yards, eating grass or weeds. In fact, many people consider groundhogs a pest. This is because they like to burrow and dig holes in the ground to live in. If a cow or horse steps into one of the holes, it can easily break its leg and there is no way to fix the broken leg. Therefore, many farmers and horse owners do not like groundhogs at all.
Since groundhogs are a common animal, some people are surprised to learn there is actually an "official" groundhog for Groundhog Day! His name is Phil, and he lives in a small town in the US State of Pennsylvania called Punxsutawney. In fact, the club that takes care of Phil even has its own website, groundhog.org! The custom of watching a groundhog in tiny Punxsutawney, Pennsylvania dates back to 1886! (You can learn more about the history here.) Each year on this date, some of the men in this club wear fancy black coats and hats and tell the world if Phil saw his shadow that day or not.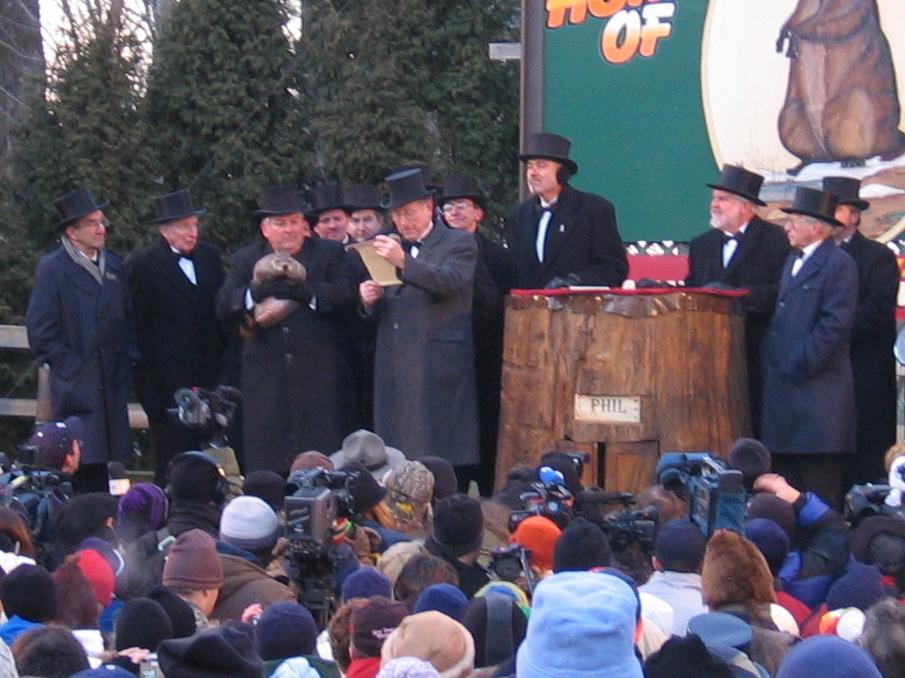 Since "All things are connected," "Groundhog Day" is not only a small holiday--it has also become a phrase in the English language! This is thanks to a 1993 comedy movie with Bill Murray where he is a weatherman sent to Punxsutawney, Pennsylvania to do a news report on Phil the Groundhog. At the start of the movie, Murray is a selfish, arrogant person, and he gets stuck in the small town he does not like and with people he does not like, because a snowstorm keeps him from leaving. However, not only is he stuck in the town, he is also stuck in a time warp, and he keeps reliving February 2 over and over, until he learns some important life lessons and "gets it right."
So today, some people say "It's like Groundhog Day" to represent something boring that happens again and again.
For example:
Billy hates his job. He does the same boring stuff with the same boring people day after day. He says it's like Groundhog Day.
None of us like Mrs. Smith's history class: she just talks Monday through Thursday and gives us a test every Friday. It's like Groundhog Day.
Watch a short video clip about the movie here.
For lots more about Groundhog Day, check out this from elcivics.com.
Thank you for reading! Do you want to know more about the English language and life in the USA? Contact Scott today to find out how we can help you!

A licensed teacher in the US state of Virginia since 1987, Scott Dreyer has been helping Chinese speakers improve their English since 1989. Dreyer lived in Taiwan from 1989-1999 where he learned Mandarin, met his wife, started his family, and realized he loved working with Chinese students. He became an award-winning author and started teaching ESL online in 2008. Dreyer and his wife and their four adult children make their home in the beautiful Roanoke Valley in the Blue Ridge Mountains of Virginia.
dreyercoaching.com/en/about/scott-dreyer
Latest from Scott Dreyer
Leave a comment
Make sure you enter all the required information, indicated by an asterisk (*). HTML code is not allowed.