Thursday, 11 July 2019 18:24
Snakes!
Written by Scott Dreyer
Snakes!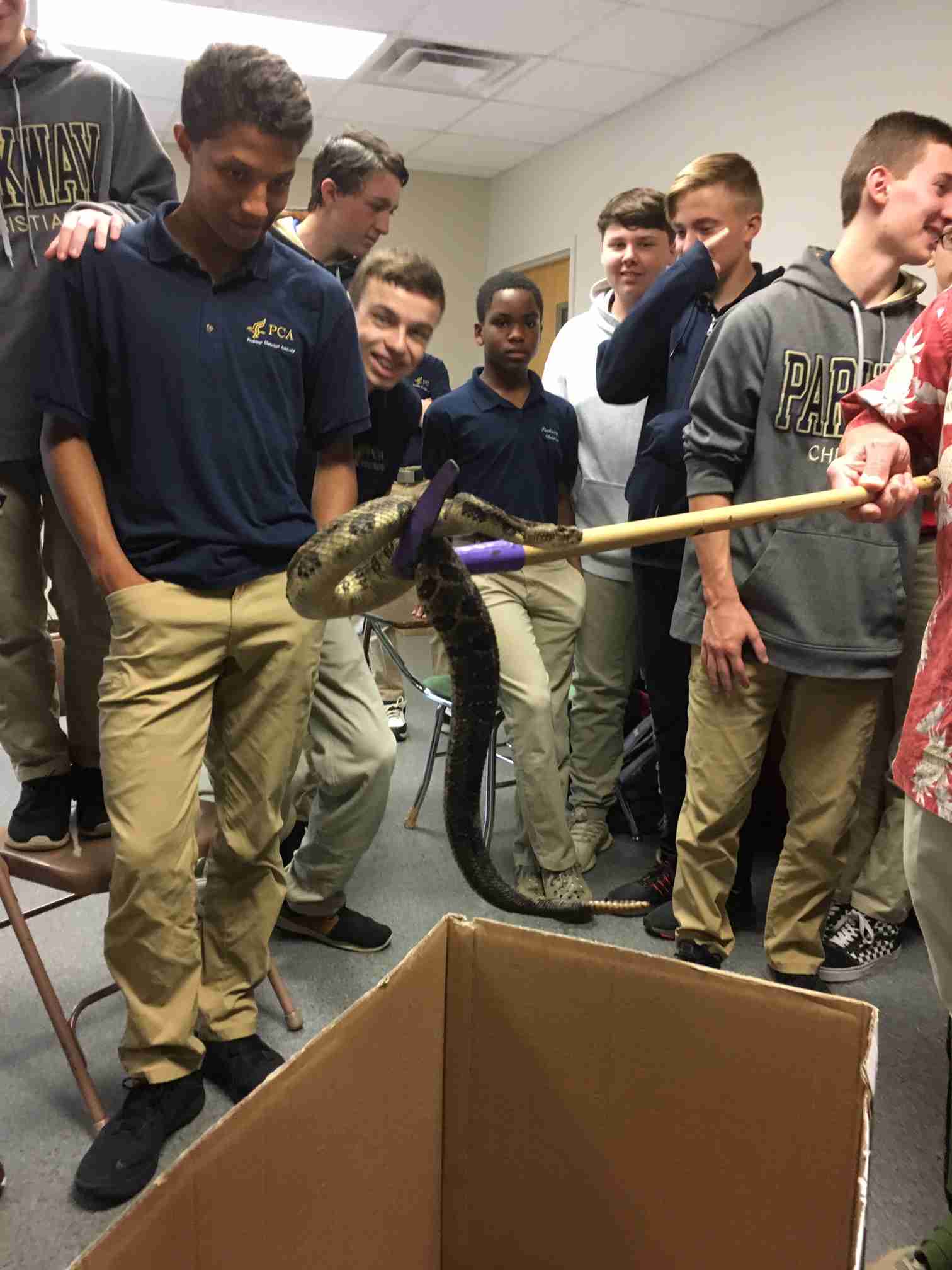 Most people hate them. In fact, a snake appears in the first book of the Bible, Genesis, and we have all had lots of problems ever since.
However, there are a few rare people who actually LIKE snakes, and one of those people is DreyerCoaching Team Teacher Mr. Dennis Woodson. He studied snakes and other reptiles in college--the field of zoology that covers snakes, turtles, frogs and other reptiles and amphibians is called herpetology. In his free time, Mr. Woodson likes to hike high and remote mountains to look for snakes. Most snakes are harmless, but some are venomous. There are 4 types of venomous snakes in the U.S., but the only types found in the part of the Eastern United States where DreyerCoaching is headquartered (western Virginia) are the timber rattlesnake and the northern copperhead.
Maybe you are wondering: What is the difference between POISON and VENOM?
The difference is that poison is breathed or ingested, whereas venom is injected (bees, spiders, venomous snakes & fish, jellyfish, cone shells, etc.).
Mr. Woodson is so excited about this subject and so willing to share his knowledge, he visited science classes at two Christian schools in Roanoke, Virginia in the spring of 2019 to share his passion.
DreyerCoaching teachers are not just interested in sharing "book knowledge" only; we want students to learn as many "real life" lessons as well. We believe, if the teacher and students are excited about the topic, everyone learns more.

A licensed teacher in the US state of Virginia since 1987, Scott Dreyer has been helping Chinese speakers improve their English since 1989. Dreyer lived in Taiwan from 1989-1999 where he learned Mandarin, met his wife, started his family, and realized he loved working with Chinese students. He became an award-winning author and started teaching ESL online in 2008. Dreyer and his wife and their four adult children make their home in the beautiful Roanoke Valley in the Blue Ridge Mountains of Virginia.
dreyercoaching.com/en/about/scott-dreyer
Latest from Scott Dreyer
Leave a comment
Make sure you enter all the required information, indicated by an asterisk (*). HTML code is not allowed.