Housing
At DreyerCoaching.com, we offer a homestay in a safe, loving, English-speaking, American home! One of the best ways to learn a language is to live with native speakers in a total-immersion environment, and our homestay program offers this! Your child attends a US high school during the day and lives with an American family after school--that means LOTS of English to learn!
How long does the homestay last?
We have homestays for a few weeks for winter camps and summer camps. We also have homestays for students attending high school or community college; these stays run from August 1 until May 31.
Why stay with DreyerCoaching.com?
The Dreyers speak Chinese and English, so they can easily communicate with you and the schoool, to answer questions and solve problems
Scott Dreyer first lived overseas in 1985 (in Germany) and he lived in Taiwan from 1989-1999, so he knows what it is like to live and study overseas, so he can use his experience to give you the best homestay possible
We partner with a small, safe private (Christian) school that has a loving, supportive environment where your child will get individual attention
We are in the US state of Virginia. Virginia is rich with history and is the birthplace of English-speaking America, so your child will learn real American culture. Plus, there are few Asians in our area, so your child will be surrounded by a true English environment. This helps learning greatly.
We are in a medium-sized city in the beautiful Blue Ridge Mountains of Virginia, so the environment is safe, friendly, and the air is very clean. In the US State of Virginia, we have four distinct seasons, and winters are not too cold, and summers are not too hot. We are surrounded by mountains, so we almost never have big storms. There are no earthquakes here either. The biggest lake in Virginia, Smith Mountain Lake, is only a 30-minute drive away. There are many recreational, historic, and natural sites nearby such as the Blue Ridge Parkway, the Appalachian Trail, Washington DC, Monticello, Kings Dominion, Busch Gardens, Colonial Williamsburg, Jamestown, and Appomattox.
Because our city has about 100,000 people, it has excellent healthcare and cultural activities. The airport has daily flights to many major cities, so flights to and from Asia are easy to schedule.
Should my child live in a big, famous city in the USA, like New York, Los Angeles, or Chicago? Everyone knows those places.
In my personal opinion, no. There are several reasons.
big cities have more problems with crime and drugs; smaller towns are safer
big cities have more air pollution, noise, and bad traffic; our area has clean air, is quiet, and gentle traffic
big cities have more Chinese people, so it is easier for your child to speak Chinese every day. (I know a girl from China who attended a high school in California, where about 80% of her classmates were Chinese. Her parents made her move back to China, where she would learn more English!) In our town, there is a stronger all-English environment
most big cities have a faster pace of life. Smaller towns in the South are known to be more friendly and have a slower pace
big cities in the North have very long, cold winters; our winters are generally mild
big cities and California are expensive places to live. Our area has a lower cost of living
The homestay includes the following: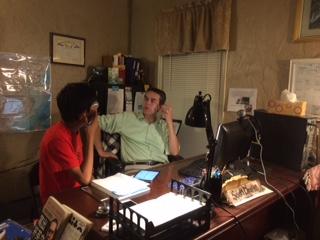 a clean, comfortable room with at least one window, bed, desk, chair, lamp, and closet
3 meals a day on non-school days; breakfast, dinner and snacks on school days (lunch is included with school package)
car ride to and from school each day, and from after-school activities, sports practice, etc.
rides to and from sports meets or school activities your child might join (basketball, baseball, etc.)
inclusion with the family for family events, holidays, meals out, trips, and daily routines
(host family will pay for expenses that the whole family does togther: go out to eat, see a movie, vacation, etc.)
gift for student at Christmas and birthday (if in the USA then)
drive to healthcare and shopping when needed
wifi (hours may be limited for sleep, study time, grades, etc.)
monitoring of grades and communication between the school and student's family
extra English classes can be arranged to help with homework, reading, writing, etc. (additional investment)
What we expect from the student:
cooperation with family rules, expectations, and Dreyer Academy LLC Home Stay policies
pleasant, respectful attitude
willingness to learn English, understand USA culture, and get involved in the family and community (Do not just lock yourself in your room and watch Chinese media)
self-discipline and diligence for school work and homework
participation in family activities, normal mealtimes, church and youth group (these all help with language learning!)
help with daily/weekly chores around the house; keep one's room tidy (this helps with learning independence!)
Student will pay for his or her own personal expenses, not related to host family activities: cell phone, going out with friends, shopping, school photos, etc.
student and his or parents will read and sign their agreement to the Host Family contract
The price? Compared to what many agents charge, a US homestay with DreyerCoaching.com is very affordable. We can help you arrange a package that includes one year (August - May) in a licensed US high school, homestay, and flights to the USA and back home, for around US$25,000 or less. Email Scott today to find out more details and to see if this would be right for your family.
Want to see more videos from this beautiful area? Click here or visit our photo gallery.
For tuition, homestay, and ESL classes, one year's tuition for an American high school starts at about US$25,000.
美国家庭借宿费、ESL课程、以及一年的美国高中学费为25000美元起。
Are you interested in a shorter visit to the USA, for a winter camp or summer camp? Contact us today to find out how!